About Jeddah Art Week 2014
Now in its second year, Jeddah Art Week (JAW), which was founded by contemporary art specialist Lina Lazaar, brings together the best of the contemporary arts from Saudi Arabia and beyond for a week of vibrant creativity and unparalleled variety.
Twelve different and dynamic exhibitions will open through the week, exploring the depth of modern and contemporary visual arts emerging from Saudi Arabia and its neighbours. International auction house, Sotheby's, brings its travelling exhibition to the Kingdom with highlights from around the world.
During this exciting week of events, JAW will give its audiences access to all forms of visual art, from painting and sculpture, to film, photography, print and multi-media. Local Jeddah are galleries are participating in JAW and will have shows opening throughout the week. This year, fashion and design are also included in JAW program. Street artist eL Seed's calligraphy mural will bring literature and the visual together with the architecture of Jeddah's Old Town.
As part of our commitment to education, JAW will host an international symposium at Dar Al Hekma University. Entitled 'Global Contemporary Art and Its Networks', a series of lectures, panels and round-table discussions will take contemporary art from the region out of the gallery and put it into its historical and global context. Aimed at Jeddah's bright and ever-expanding student community, this is a vital international symposium for anyone with an interest in contemporary art, its networks, and markets.
JAW comes at a time when the world is increasingly looking toward the Middle East for emerging creativity. In bringing together local talent, with the support of international participants, JAW will deliver a week of events that will engage the community in a celebration of the variety of visual and cultural practices that Jeddah's art scene has to offer.
Calendar of Event – Jeddah Art Week 2014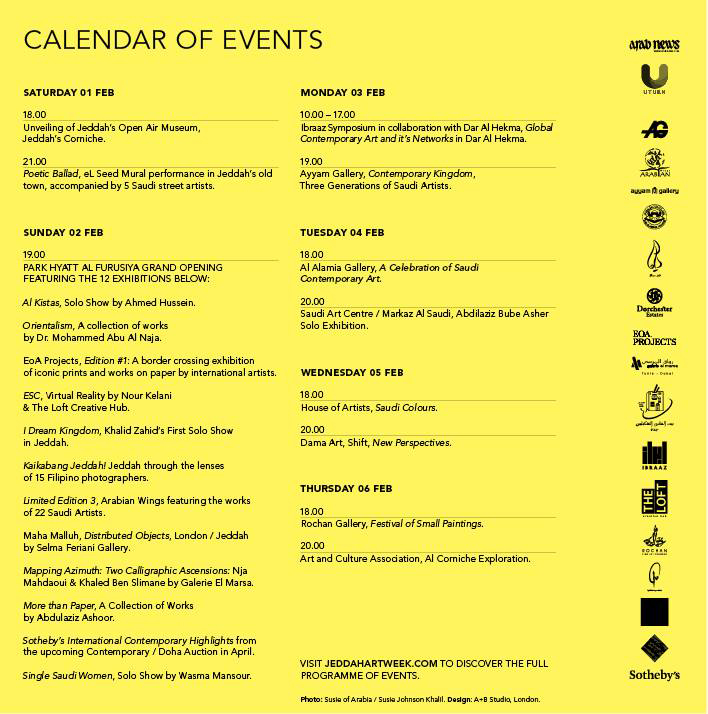 Click on image for large view
Jeddah Art Week Social Media : Facebook | Twitter | G+ | Instagram