It is a sort of anxiety and frustration for most new college and university students: what if my room partner and I do not manage properly? It is certainly not less than a challenging situation to live with a new college colleague for the first time in an apartment for a whole year. But it can be a rewarding and pleasing experience for you to have a good roommate in your cabin. In reality, many school and college students prefer to share rooms and dormitories for years and they become lifetime friends eventually.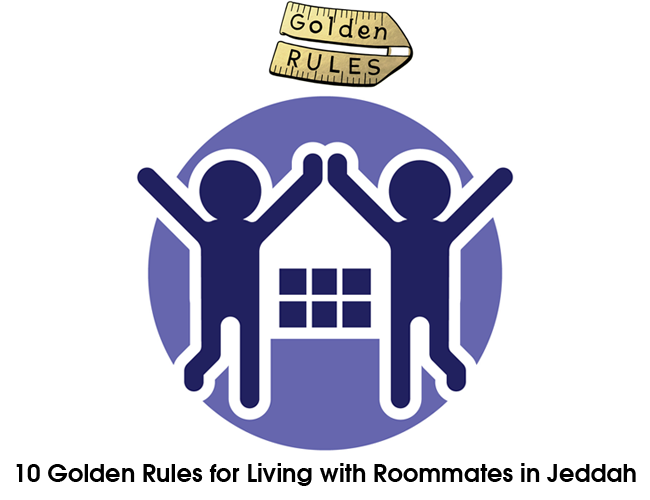 If you are finding a roommate in Jeddah to live with him for the first time, you should read these golden rules to make your roommate relationship as memorable and caring as possible:
1). Clear Communication
First in order to avoid any conflict, you will have to develop a strong communication with your roommates from the get-go.  In addition, you will have to give a certain level of respect to your roommate for keeping pleasant relationships.
2). Problem Solving Attitude
You will have to squeeze it in the bud and try to solve problems even though they are not big. Address the issues to your roommates immediately once you notice them. But when the problems are big don't wait and try to solve them quickly.
3).  Your Roommate's Belongings Are Your Roommate's Belongings
This often seems to be one of the biggest problems between roommates because they don't address the issue immediately. Remember that your roommate's belongings are your roommate's belongings. Always get the permission from your room partner before using his or her stuffs in the room.
4). Be Careful About Inviting Guests Over
If you really want to live with your roommates in a combined room, then you will have to become a little extrovert and friendly. Don't be quiet all the time. At the same time, you should think a twice before bringing guests into your room because it may be very irritating to your roommates.  Always talk to your roommate before inviting people over.
5). Lock Up
Before leaving the room, it is extremely important for you to lock the doors and windows properly for keeping your and your roommates stuffs safe.
6). Show a Smile
 You might not be best roommates and that is okay. Be smiley, nice and sociable with your colleagues always, but respect each other's necessities. Always give a space to your roommates and it is better for longer relationships. Don't try to force your best friend because this will cause anxiety and distress for both of you.
7). Keep an Open Mind
It should not be surprising for you if your roommate has a different background. He or she may be from the same culture or may have an entirely different background, way of life, dogma and viewpoint than yours. You should be open to this new reality and respect each other's culture. When you do this, you will get a rewarding cultural experience.
8.) Change You Believe
Nothing remains the same in our life. College life gives you experience and exposure. Your roommates will likely change during your college or university life. Therefore, you should be aware of the changes as they happen and do not think about the past. News challenges will come in your life and you may need to address issues or new changes immediately.
9.) Treat Your Roommate How You Want to Be Treated
 This is the Golden Rule if you want to survive in mutual rooms or apartments. Treat your college colleague how you would hope to be treated. That's the way to live and you will have no regrets.
10.) Careful Web Search
 Before you find a room in Jeddah, it is very important to conduct a thorough web search as you will find many options there like 2-bed rooms, 3-bed rooms, 4-bed rooms, small rooms, big rooms, cabins, compounds, luxury apartments, etc.
You can also post free classified ads about roommates in Jeddah on Saudi Point in order to get particular information!