To getting a drivers license in Saudi Arabia is not easy. Processes are defined to obtain a driving license. If you are already familiar with driving, you can get the license within 2 days.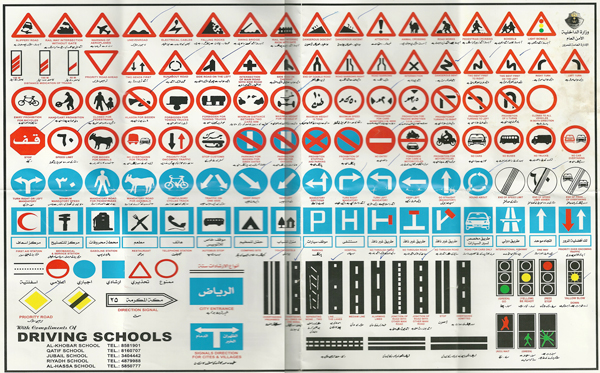 Steps
Before applying for driving license, you must have the following documents with you.
Get your Country License translated to Arabic.
Get your Blood group report from any dispensary in Saudi Arabia.
Your Iqama (Resident permit) copy
Your Passport copy with visa copy as well.
Deposit SAR 400/- through internet against your Iqama for 10 years Private License.
Go to any nearest driving school Driving School , with all the documents before 9'o clock.
Pay 10 riyals to shop of Photocopy outside school gate and he will create a file.
With this file, enter Hall No. 2 in school and get your eyes tested.
On your left side will be an eye microscope. Get your eyes tested and he will stamp your application.
Get a license check from same hall in opposite direction.
Take the initial trial from Hall No. 4. You need your iqama as well.
Take care of only 4 things. Seat belt, back view mirror, hand break, and seat adjustment for your accelerator. Drive slowly through round-about.If you succeed in initial trial, the tester will write "I" alif on your form.
Take the file back to hall no. 2 and he will print a form taking you 100 saudi riyals for the instructions class to be held on the same day evening from 3:00 to 6:00. Your file will be held and you will be given the slip.
 Attend the class from 3 to 6 pm same day. bring the slip.
Next day come to school again and go to computer testing waiting hall with the slip. Submit the slip inside the examination room.
On your turn, take the exam and then sit in the stadium to get your final trial.
After final trial, if you are successful, come back to computer test waiting room. You will be given back your file.
Take your file to hall no. 1 and counter no. 14. Submit it there and tell him that you have deposited your 400 riyals.
After 10 to 15 mins your name will be called and you will be given the Driving license.
Driving License Tips
Spend at least 2 – 3 hours in reading the chart of signs and questions.
Take care of 4 things before start driving. Seat belt, Hand brake, Back view mirror, seat adjustment with Accelerator.
Drive slowly unless the instructor asks you to drive fast.
Information Sources:  Driving License in Saudi Arabia