Pakistan Consulate Jeddah
The Consulate General of the Islamic Republic of Pakistan, Jeddah has been providing prompt services to the Pakistani community living within its jurisdiction and serving the lawful interest as well as mercantile concerns of the Pakistani nationals. This web site is our gateway to you.
The Consular Section of the Consulate General of Pakistan, Jeddah provides a bouquet of Consular Services to both resident and non-resident Pakistanis. These include,
Issuance/Renewal of Manual Passports.
Registration and endorsement of Children on Parent's Passports.
Issuance of Machine Readable Passports (MRP).
Attestation of documents.
Issuance of Emergency Passports for repatriation.
Issuance of Visa Services.
Download Forms
 Pakistan Consulate Jeddah Photo
Pakistani Consulate Jeddah Location/ Map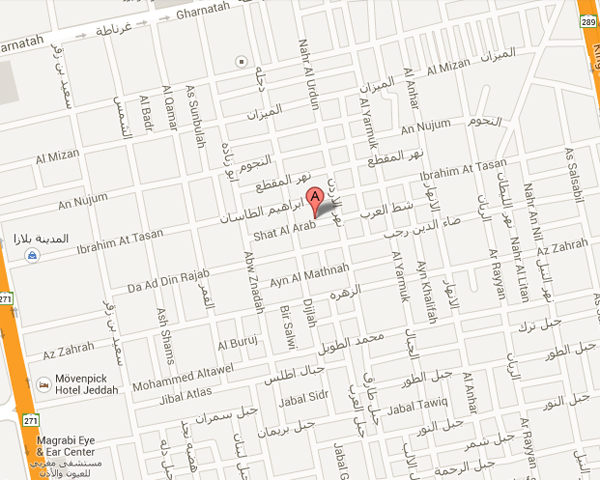 Pakistani Consulate Jeddah Direction
Pakistan Consulate Jeddah Address
Pakistan Consulate , Saudi Arabia
N 17 E 7 Sector, Mushrefah, Ibrahim Al-Tassan Street 19, Building No. 58
P.O. Box 182  – Jeddah 21411 – Saudi Arabia
Pakistan Consulate Jeddah Phone/ Fax
Phone:
+966(02)669-1046
+966(02)669-2371
Fax:
+966(02)669-3309
Pakistani Consulate Jeddah Email Address
Email:
cg@pakconsulatejeddah.gov.pk
info@pakconsulatejeddah.gov.pk
WelFare:
cwa1@pakconsulatejeddah.gov.pk
cwa2@pakconsulatejeddah.gov.pk
Nadra: nadra@pakconsulatejeddah.gov.pk
Wafaqi Mohtasib: vcca@pakconsulatejeddah.gov.pk
Pakistani Consulate Jeddah Website
Web: www.pakconsulatejeddah.gov.pk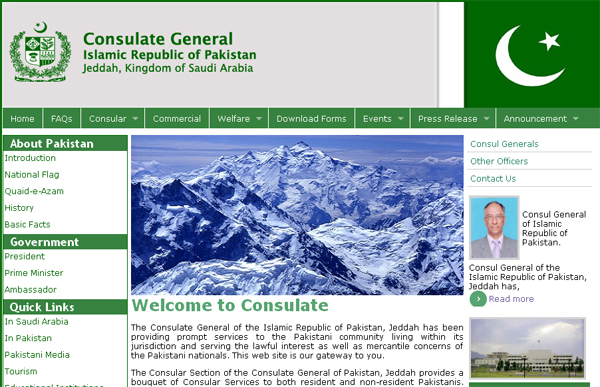 Sources: pakconsulatejeddah.gov.pk
Last Updates : 08-09-2013